Survey Results: Insights into the Potential of Scientific Knowledge Graphs
Scientific Knowledge Graphs (SKGs) have been gaining attention in the research community for their ability to convert data into knowledge. To understand the perspectives and expectations surrounding SKGs, an online survey was conducted during the Open Science Knowledge Graph workshop held during the OSFAIR 2023.
In this blog post, we will delve into the survey results and highlight the key insights regarding the participants' roles, main uses of SKGs, and the features that should be improved or added to enhance SKG effectiveness.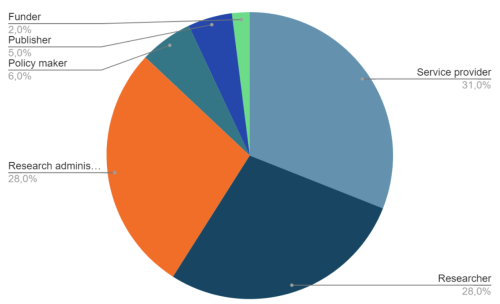 Participants' roles
Main Uses of SKGs
When it comes to the main use or interest in SKGs, the survey revealed a wide range of applications and benefits. These included:
Providing an alternative to proprietary graphs

Implementing FAIR (Findable, Accessible, Interoperable, and Reusable) principles

Enhancing decision-making processes

Mapping data stewardship services in a Knowledge Graph

Helping researchers track the impact of their research and maximize its use

Improving research discovery and dissemination

Leveraging NLP (Natural Language Processing) techniques to enhance search capabilities

Facilitating research assessment, monitoring, and reporting

Exploring the science of science: understanding the scientific ecosystem and generating new knowledge about research evolution

Analyzing and feeding internal reports on institutional behavior and its context

Obtaining a complete picture of one's research area of interest at any given time

Gaining insights into the interests and working areas of researchers within a country to provide better research opportunities and effectively connect them with funders

Retrieving high-quality metadata for semantic analysis

Harnessing the capabilities of SKGs to visualize the scientific workflow and unlock new possibilities for information discovery and correlation creation
Additionally, participants noted that SKGs underlie a number of services that research communities use, highlighting the importance of understanding how SKGs operate for those involved in research support.
Improvements and Additional Features
To fully harness the potential of SKGs, participants identified certain improvements and additional features that they believed would enhance their effectiveness. These suggestions included:
Implementing persistent identifiers (PIDs) for organizations to account for historical changes such as institution name changes or mergers

Supporting multilingualism to facilitate the accessibility of SKGs across different language communities

Ensuring reliability, curation, and monitoring of metadata quality to maintain the integrity and usefulness of SKGs

Streamlining the querying process to make it easier and more user-friendly

Empowering business intelligence (BI) with multiple options to enable comprehensive analysis and decision-making capabilities

Providing information about retractions to ensure the accuracy and reliability of research findings

Addressing the challenges associated with scholarly publication workflows, particularly the unruled and uncontrolled manner in which researchers publish papers, data, and software in open science

Involving the community in data curation to leverage collective expertise and ensure the accuracy and relevance of SKGs

Offering a simple data model that does not compromise information, semantics, and provenance while making it easier to navigate and understand the SKGs
Participants also emphasized the importance of a user-friendly interface to enhance the accessibility and usability of SKGs.
Conclusions
The survey results shed light on the roles, main uses, and expectations surrounding Scientific Knowledge Graphs (SKGs). From enabling better research discovery to supporting decision-making processes, SKGs have the potential to transform the way we manage, explore, and analyze scientific knowledge. By addressing the suggested improvements and adding the desired features, the scientific community can fully leverage the power of SKGs and unlock new possibilities for research and knowledge discovery.